Webinars
Our Nutrigold webinars are designed to keep you up to date with the latest in nutritional science and practical steps and tools to help advise clients. We have always delivered high-quality content for all our webinars and you can find a selection of recorded webinars covering a huge breadth of material and subjects here.
Please note that they can be product-specific and therefore unable to carry CPD accreditation, these webinars are for practitioners only. (please see our education partner nutrihub.org for accredited CPD webinars and these webinars are designed for anyone)
We also offer a monthly live webinar for £10 per person (this is to encourage attendance and you will receive the £10 back as product credit) and allows you an opportunity to learn about the latest trends and thoughts around specific subjects and products. Please see below for our schedule.
Coming Soon
Educational Partner Webinars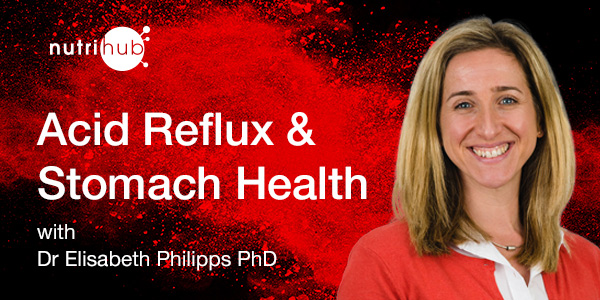 Title: Acid Reflux & Stomach Health
Presenter: Dr Elisabeth Philipps PhD BSc (Hons) BSc Nutr Med
Price: £20
Date: Tuesday 28th April 2020
Time: 12 - 1pm 
Elisabeth will focus the webinar discussion on the preventable causes and
natural means of resolving acid reflux conditions; briefly exploring the
epidemiology and the connection with hiatal hernia, as well as other
contributory factors. Elisabeth's main focus will highlight the role of food
reactivity in reflux conditions; she will distinguish between acid reflux and bile
reflux and the different approaches to resolving the two different types.
Elisabeth will also describe nutritional means to support stomach health and
ensure digestion and bioavailability of nutrients such as vitamin B12 is
supported.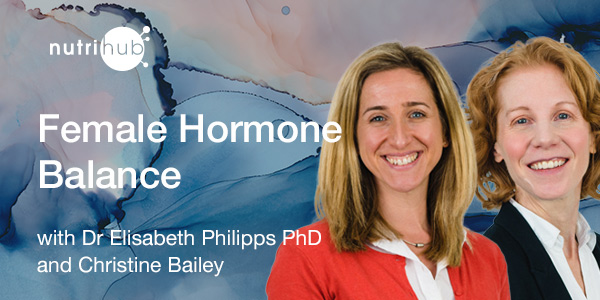 Title: Female Hormone Balance 
Presenter: Dr Elisabeth Philipps PhD BSc (Hons) BSc Nutr Med
Price: £20
Date: Tuesday 26th May 2020
Time: 12 - 1pm
Join Dr Elisabeth Philipps and nutritional therapist Christine Bailey as they discuss the topic of female hormones. From adolescence through to senior years, female hormones play a pivotal role in health and disease. The delicate balance between the different hormones and endocrine systems requires supporting at different stages of life and Elisabeth and Christine will use their combined nutrition and functional medicine knowledge and experience to identify and practically support this area of female health.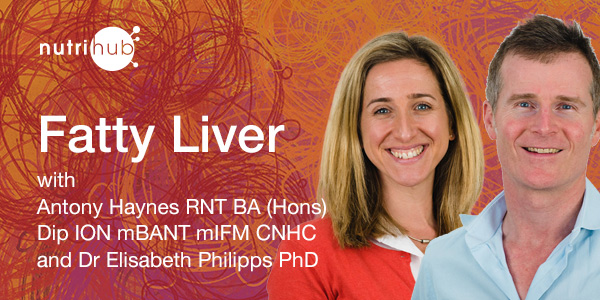 Title: Non-Alcoholic Fatty Liver Disease 
Presenter: Dr Elisabeth Philipps PhD BSc (Hons) BSc Nutr Me
Price: £20
Date: Monday 29th June 2020
Time: 12 pm – 1 pm
The liver is the powerhouse of the body undertaking a number of vital roles including detoxification and metabolism of fats, carbohydrates and proteins. A build-up of fat in the liver cells occurs very easily through poor diet and lifestyle and can have a major impact on liver function and our health. The early stages of fatty liver disease are often free from major symptoms so damage builds up unchecked over time leading to major health problems including cirrhosis and even cancer. Elisabeth and Antony will draw on their combined 40 years for nutritional medicine knowledge and practical experience and discuss the importance of dietary, nutritional and lifestyle measures that have an opposing effect on the development of fatty liver and could reverse it.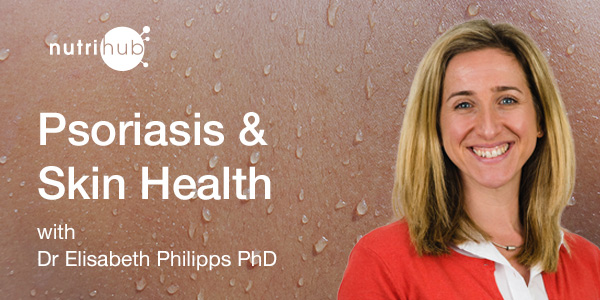 Title: Psoriasis & Skin Health  
Presenter: Dr Elisabeth Philipps PhD BSc (Hons) BSc Nutr Med
Price: £20
Date: Tuesday 28th July 2020
Time: 12 pm - 1 pm
Join Dr Elisabeth Philipps for a CPD accredited webinar discussion around: "Psoriasis & Skin Health"
Psoriasis is typically a chronic autoimmune disease characterised by patches of abnormal skin. These skin patches are typically red, itchy, and scaly. Psoriasis varies in severity from small, localised patches to complete body coverage. Unlike eczema and dermatitis, it is NOT widely known that nutritional interventions can influence the outcome of psoriasis which it most certainly can by addressing the underlying causes.